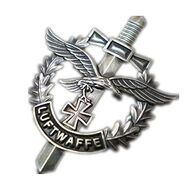 The Wehrmacht is the Military wing of the United Reich, that said the Wehrmacht also includes the Luftwaffe; which is a prized and prestigious division in the United Reich which is lead by the Ace Stuka pilot Hans-Ulrich Rudel. Aside from that the Wehrmacht also includes many Panzer divisions and an infantry division 
The German forces have seen much action since the founding of the United Reich. From freeing the rest of Germany to wars with other nations, the Wehrmacht is now a very formidable foe due to now the addition of the Gearhound. 
These Gearhounds are now the new replacements for the now-outdated "King Tiger" simply being named "Tiger III". However due to how expensive these are to build and to maintain only select Generals of the Reich military are enabled to control these mighty beasts of war. 
But then what about the regular panzers one may ask? We simply direct you to the Leopard II, which is a medium tank and a replacement for the Old Panzer III and an upgrade from the Lent American issued tanks aka the M1A1 Abrams. These Leopards are fast, and a very versatile unit and also possess the deadly potential of a T-72 which has been full modded out with legendary gear.
With all these talks of Panzers and Gearhounds whose technology has spread throughout Petram, the Reich has taken itself to build Panzerjägers. While the status of these tank killers remains classified rest assured that we have the means of repelling them.
............................................................................................................................
Next up on the list is the Luftwaffe: our pride and joy, the German wings, our angels in the skies. The Luftwaffe has seen more action than any other division in the Reich. Our technology has evolved and we now have new Stuka bombers and anti-air capabilities. 
Community content is available under
CC-BY-SA
unless otherwise noted.